4.3 Save as… and Save Location


Location->Save (Ctrl+S)
This button and menu option are assigned for saving the location. In the case of new Locaton the Save Location As Dialog will be invoked for selection of directory name.





Location ->Save as...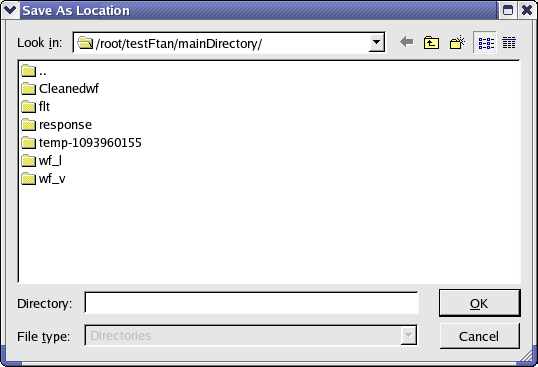 This window shows the current directory and it's subdirectories.
1. Using an existing directory as saved location you have two possibilities:
(a) Click once on selected directory and directory name will appear in 'Directory' box. Click OK to save the location.
(b) Double click on selected directory will open this directory. Name of selected directory will appear in 'Look in' combobox. 'Directory' box will be empty. Click OK to save the location.
2. To save the location as a new directory click the 'Create New Folder' toolbar button to create the new directory. Then rename it using popupmenu which appeared pushing right mouse button. Then use one of possibilities described above.

Location->Exit (Ctrl+Q)
This button and menu option are designed for program exit. If you will push this button without preliminary save of location (FTAN parameters and results of processing) the program will remind you to save the location.


---
| | |
| --- | --- |
| Copyright © 1998 - 2005 Mitpan | Fmt-1-40 |