Compilation Catalog Program
7.5 Substitute catalog parts.
Catalog compilation may require addition and/or substitution some parts of data from different source catalogs. CompiCat allows the user to upgrade the catalog in work (called Initial) with data from a number of additional source catalogs (called Catalog add-ins). The Substitute tool may seem rather similar to Merge catalogs tool although the rules for merging the data from different sources are quite different. Contrary to Merge catalogs tool, the Catalog add-ins have higher priority than Initial catalog - all the records of the initial catalog that fall within any of the time spans of all add-ins will not appear in the resulting output catalog being substituted with data from add-ins. Specifically, Substitute starts with the uppermost add-in from the list, determines its time span from the first to the last record, and substitutes all the data from the initial catalog from this time span with all data of the add-in (note that depending on the initial catalog time coverage and the add-in time span, the add-in data would either prepend or insert or replace or append records to the initial catalog). Turning to the next add-in, if any, Substitute considers the result of the previous step as the initial catalog and proceeds with the current add-in. Finally, step by step Substitute comes to the last add-in and completes the task. Note that the order in in Catalog add-ins list defines the ascending add-in priority, according to which the records from the last add-in, evidently, will all be present in the output catalog.
To open the window for substitute catalogs parts (Substitute) click button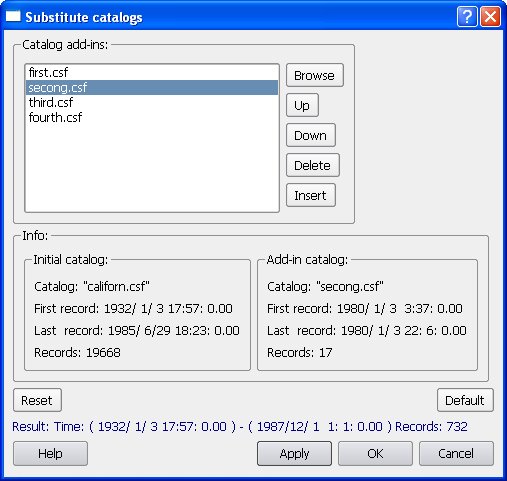 If Catalog add-ins list is empty or its content would not be used, click Browse button, browse the directories on your computer for the catalog add-ins to Initial catalog and open one or several of them in any order. To add one by one more add-ins to the existing Catalog add-ins list from any directory use Insert button. Other buttons - Delete, Down, Up - permit to manage the list.
The button Apply confirms the choice of the Initial catalog and Catalog ins list and runs
Substitute
procedure. To rerun the procedure anew without saving the current results the user can change
Catalog ins
list and click the button Apply.
The button OK is used to accept all the results of the Tool.
The button Cancel is used to cancel all the actions performed by the Tool earlier and closes its
window.
By clicking the Default button the user sets the default values of the Tool. By clicking the Reset button the user can remove all the changes introduced after entering the Tool window. (Note that Reset button during the first usage of the Tool is equivalent to the default values.)